By Source Staff — January 12, 2010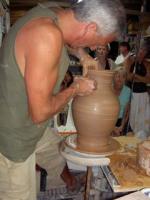 Visiting potter Ara Cardew will teach a Weekend Lecture Demonstration Workshopon Jan. 22-24that will include an evening reception on Friday, a demonstration/slide show/ talk on Saturday, and a demonstration on Sunday. The workshop fee is $150. For Studio members with an active studio card, the rate is $125. The fee for those who are interested in coming Saturday only is $85. The schedule for that day: Studio demo/talk from 9 a.m. to noon; lunch and swim break from 12-2:30 p.m.; studio demonstrations from 2:30-4 p.m.; and dinner break/slide talk from 7-9 p.m. The active studio card rate is $80.
Ara Cardew is an internationally noted potter who was born into the Cardew family of English potters and has been making pots since he was a small child. His grandfather Michael Cardew and father, Seth, were significant contributors in bringing the tradition of handmade functional pottery into the respected art that studio pottery is today. Raised in Cornwall, England, Cardew became an apprentice with his grandfather in 1981 at the Wenford Bridge Pottery.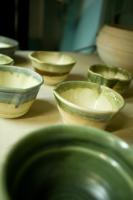 As a third generation potter, the master potter learned the skills involved in making pottery from throwing , to decorating pots with nature inspired motifs, as well as the technical aspects of pottery making.  His work is included in both public and private collections, including the British Council in London. His strong and graceful thrown forms and artful slip work carry a sense of tradition and the mark of a master potter. Equally at home on the electric or kick wheel,  Cardew's teaching style is relaxed and intuitive.
Space is limited. To register or for more information, contact Gail Van de Bogurt at mahobayclay @earthlink.net or mahobayclayworks.com, or call 514-6594 or Maho Bay Activities Department at 776-6226, ext.212